How it works
Would you like to know how to book and check in, or how to pay? The answers to these questions and many more can be found here.
If you're planning your first visit to Gnista Glamping, we recommend that you read through the information on this page. It will make your preparations easier and your glamping experience even better.
PACK LIGHT
On site with us
We want your stay at Gnista to be memorable, relaxing and easy. We therefore have everything you could possibly need, including the following:
Gas barbecue
Dishes and cutlery (4 plates per tent, associated cutlery, glasses, serving platter, salad bowl, smaller bowls, etc.)
Refrigerator
Sink
Running water
Hand towels
Sauna
Clothesline
Incineration toilet
Two spring beds in each tent + a couple of simpler air mattresses
Bedclothes
Duvets, pillows and merino wool sheets
Extra blankets
A selection of books
Board games
Binoculars
Paddleboards
Volleyball (there are a few playing fields with nets nearby)
Wi-Fi
Electrical outlets
First aid kit
About the tents
At Gnista Glamping there are two spacious tents that are furnished for two people each. It is possible to make room for four people in a tent if two people sleep on air mattresses.
The two tents (Aalto and Helmi) are some distance from each other and rented separately, but it is possible to rent both at the same time if you wish.
The tents have a diameter of 5 metres and a floor area of 19.6m2. The tent cloth is waterproof and UV-resistant. The tent sides can be folded up and the mosquito net that runs around the tent prevents uninvited guests from sucking the joy out of your glamping experience.
There is a modern outdoor toilet nearby the tent. There is a toilet for each tent and we ask that our glamping guests only use their own toilet when nature calls.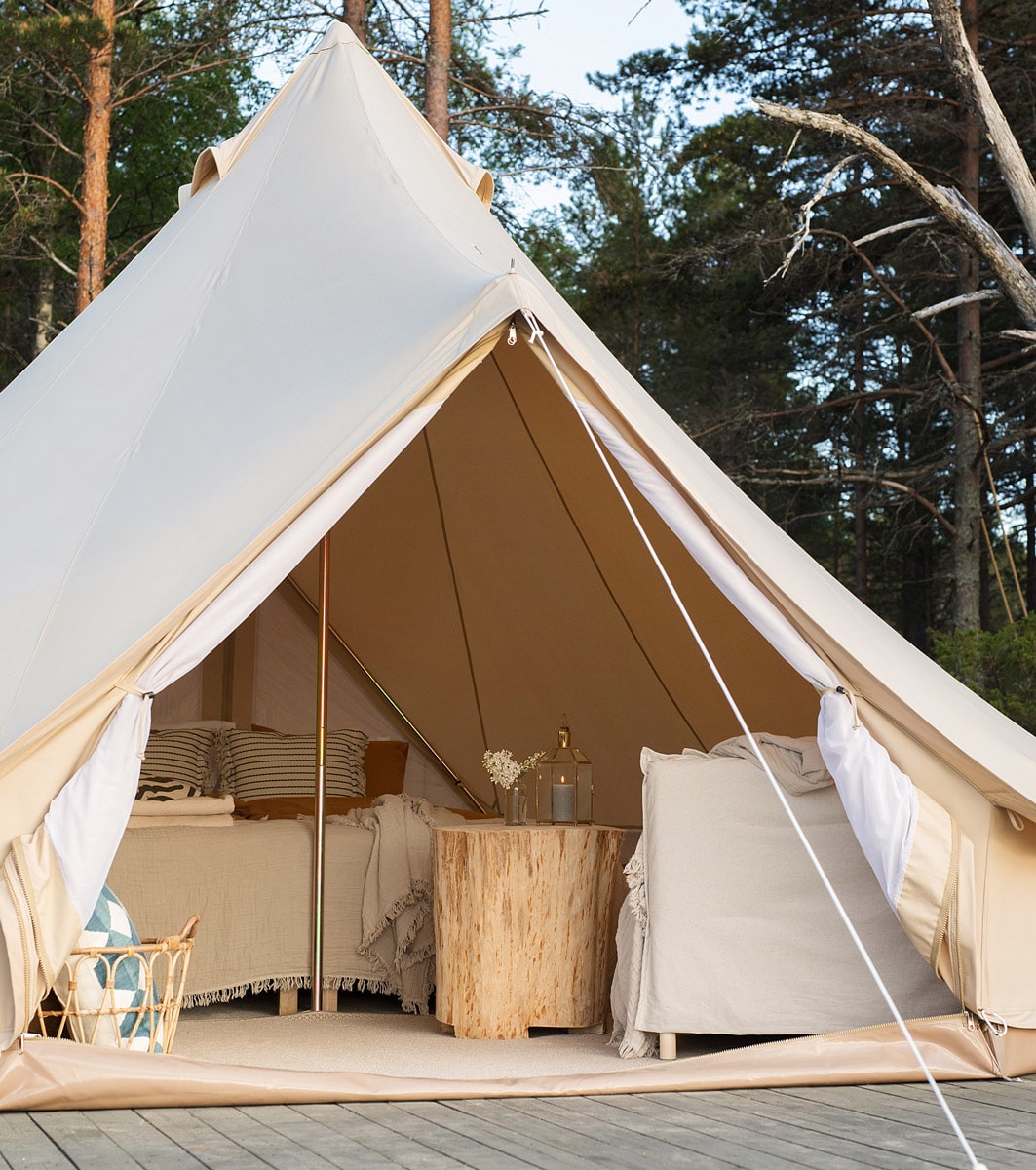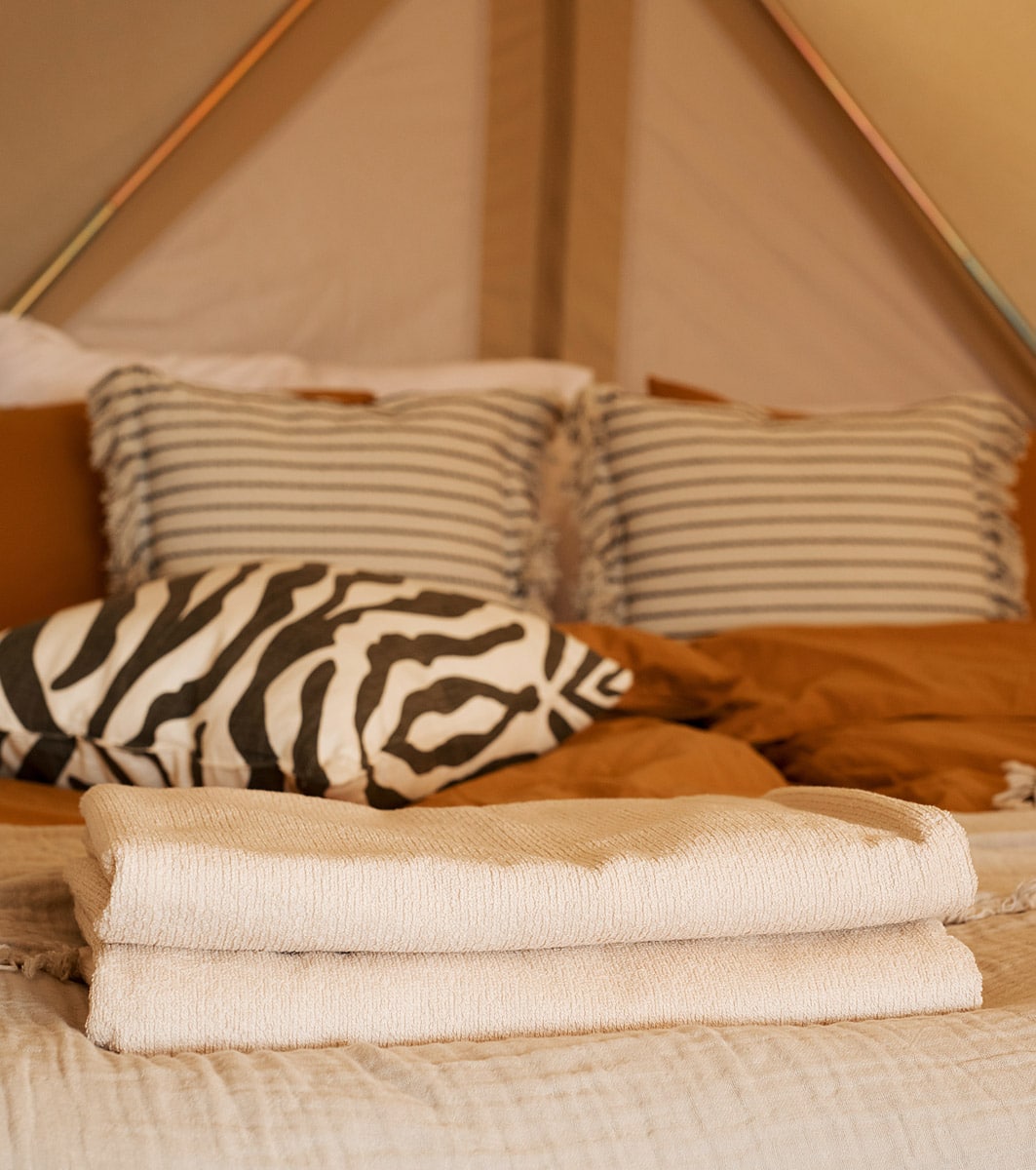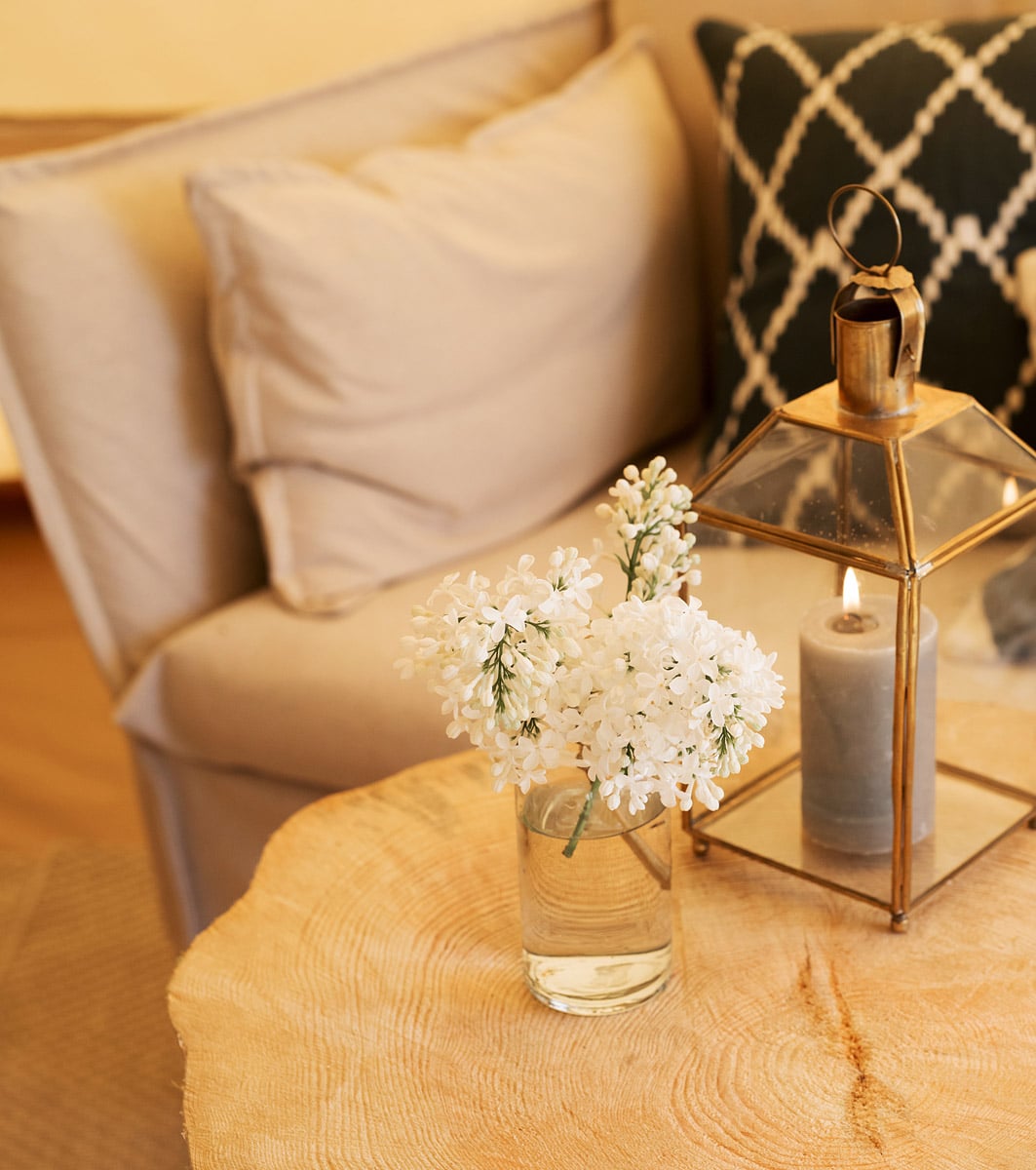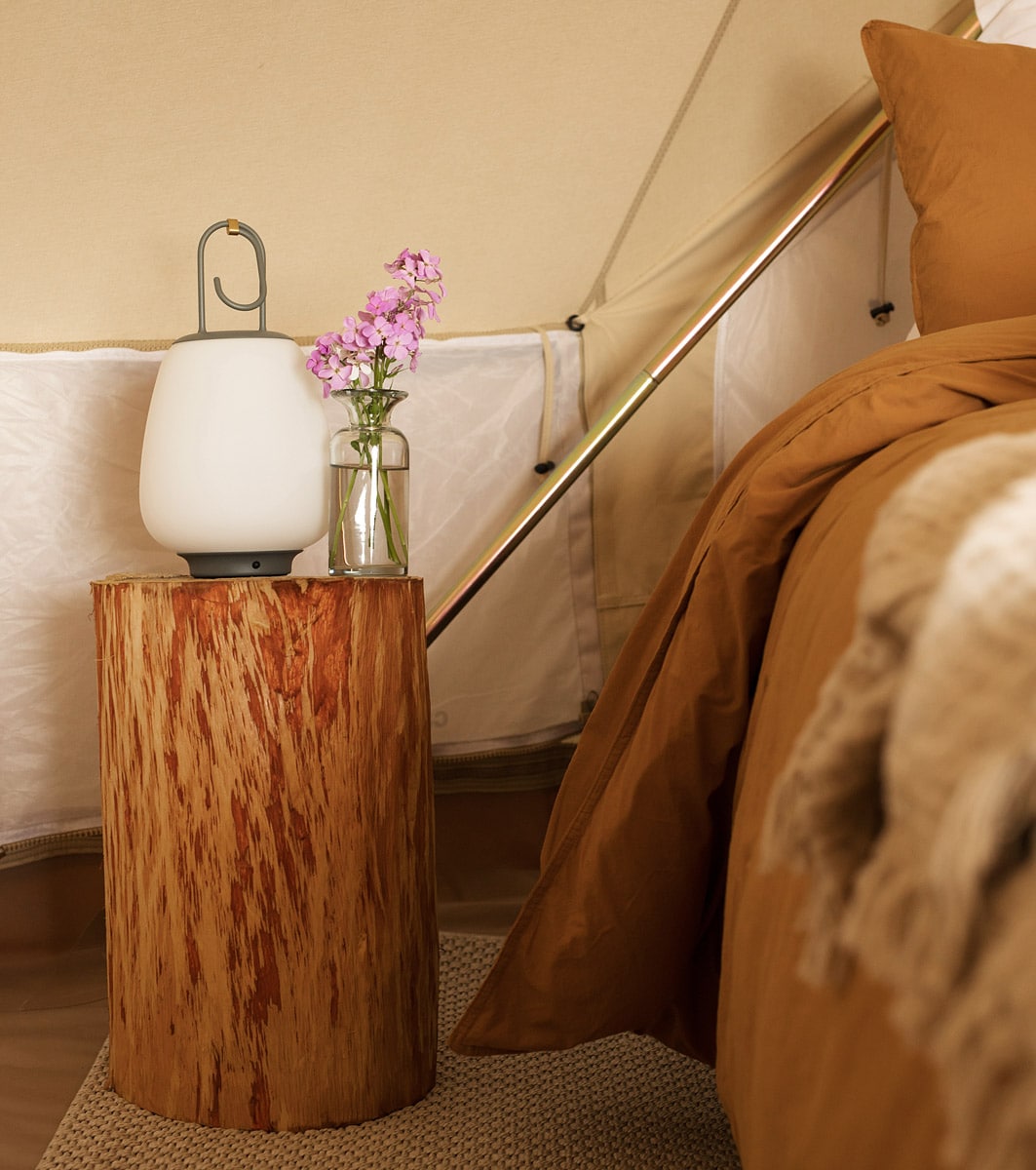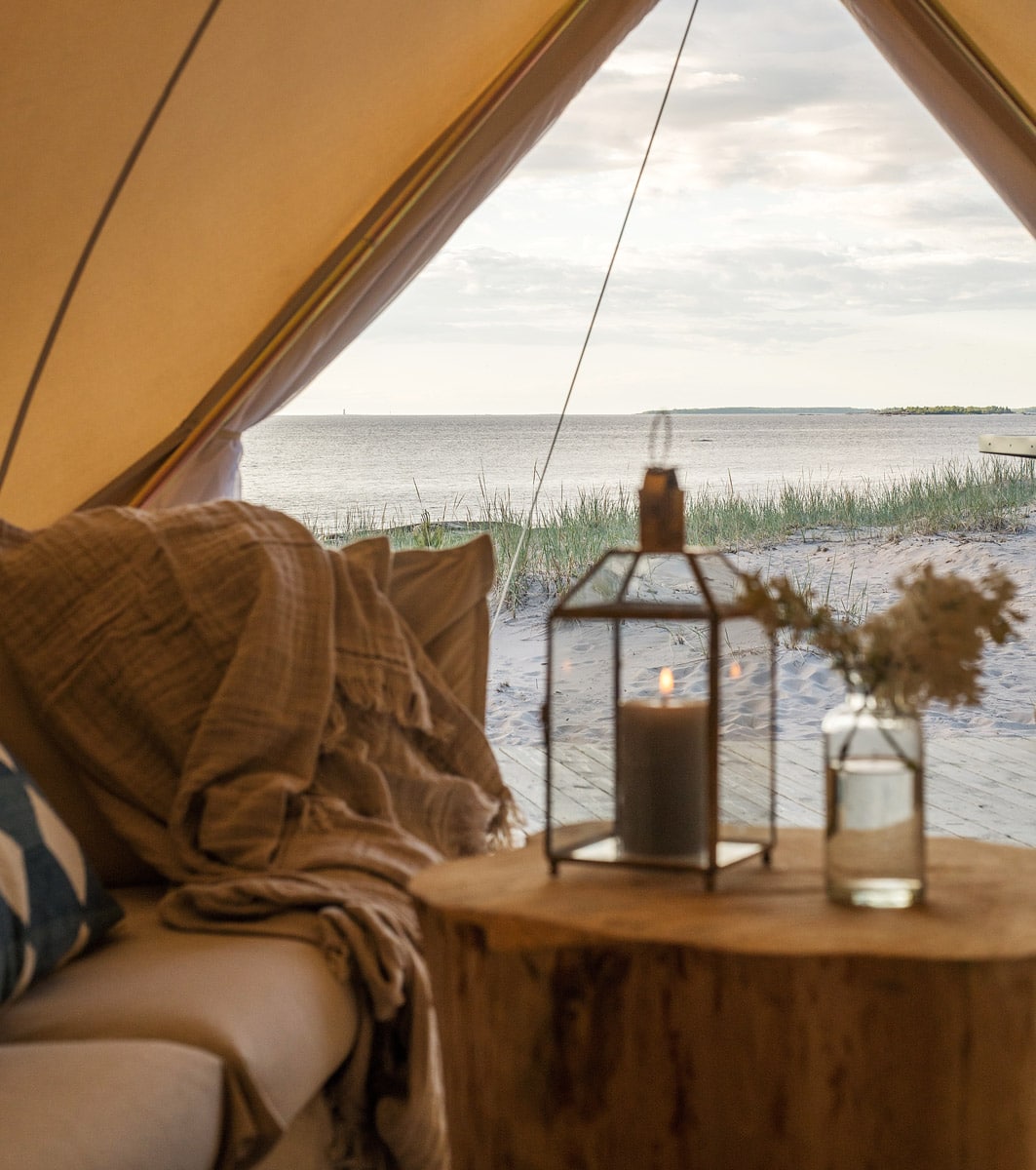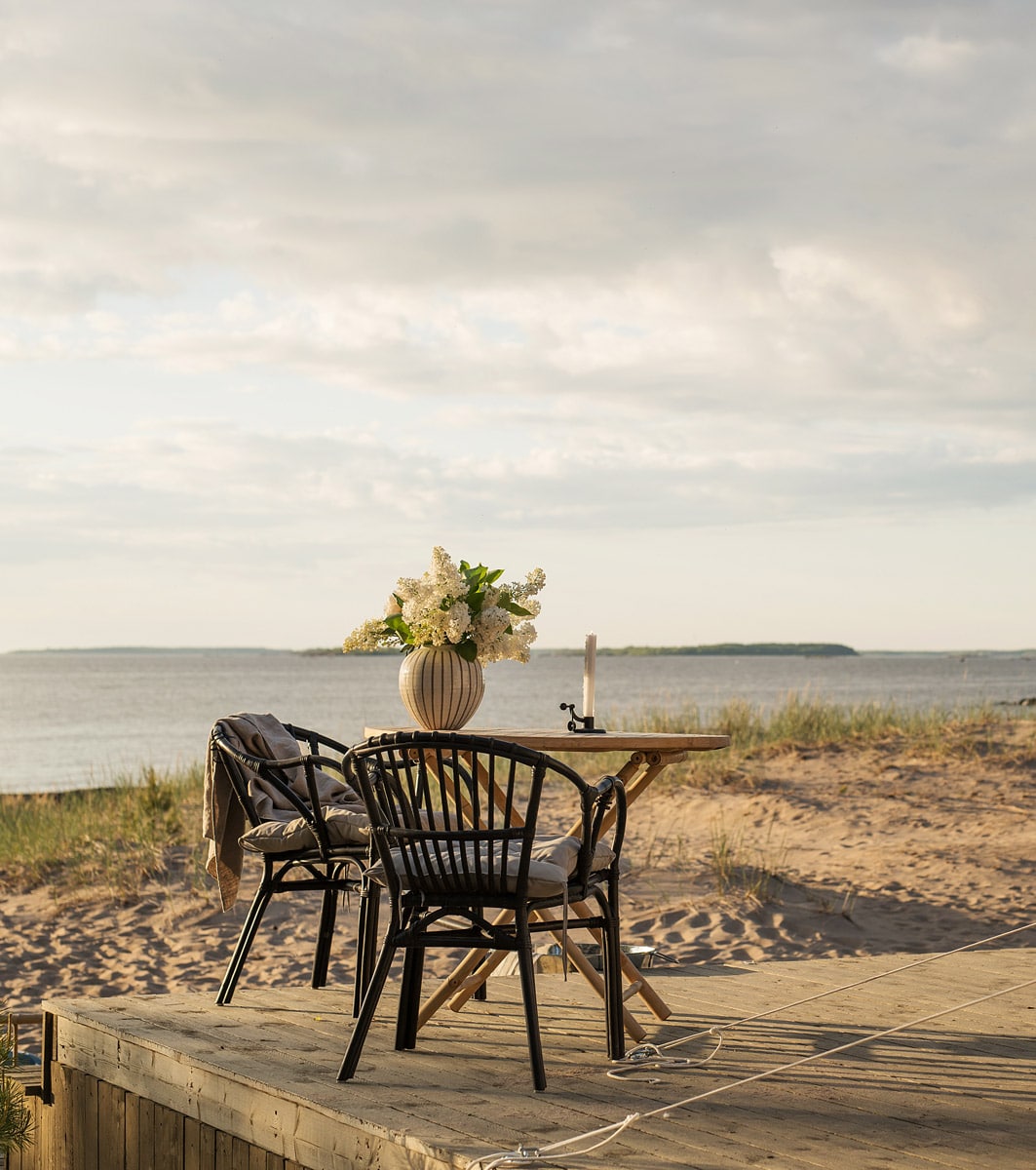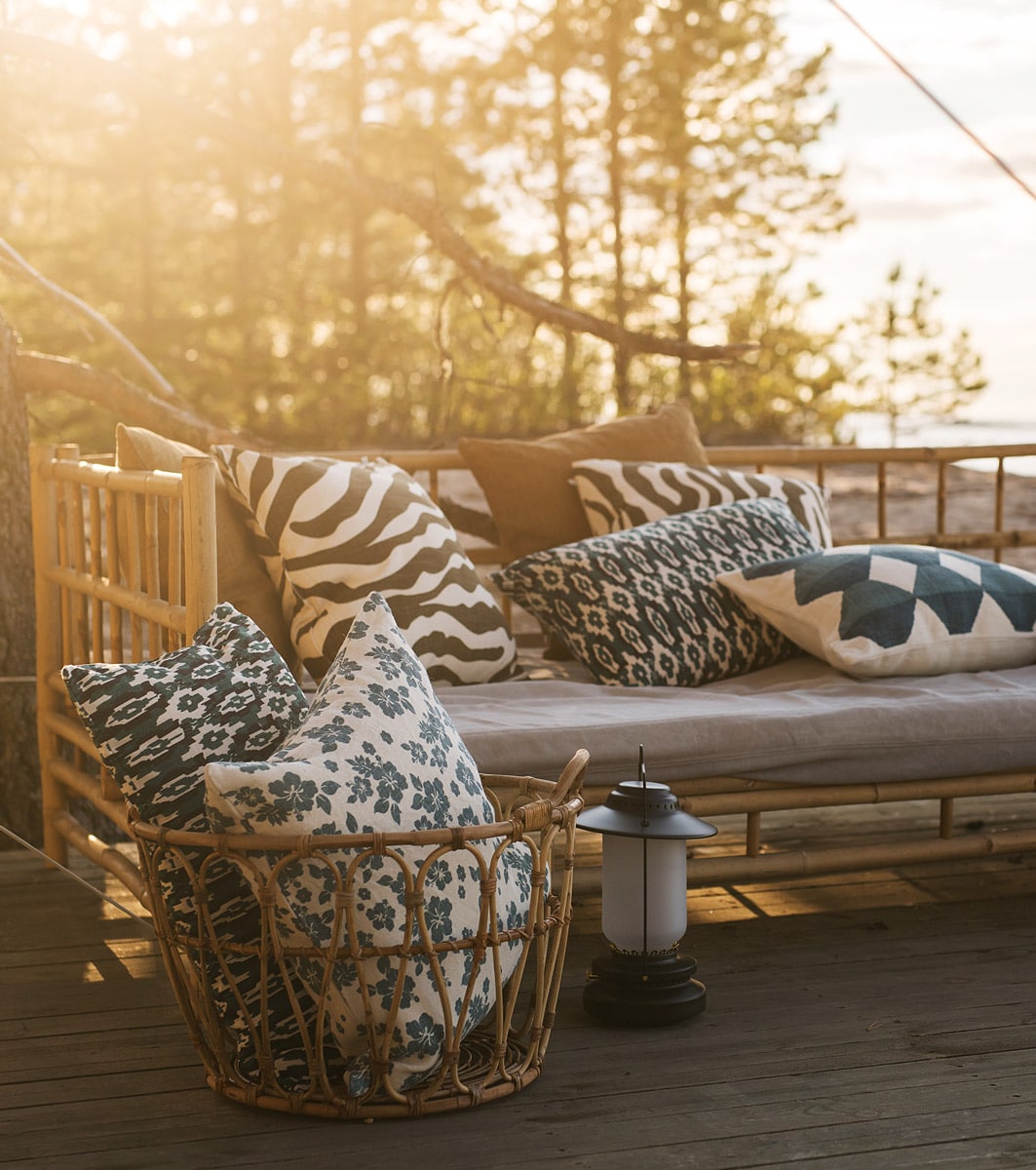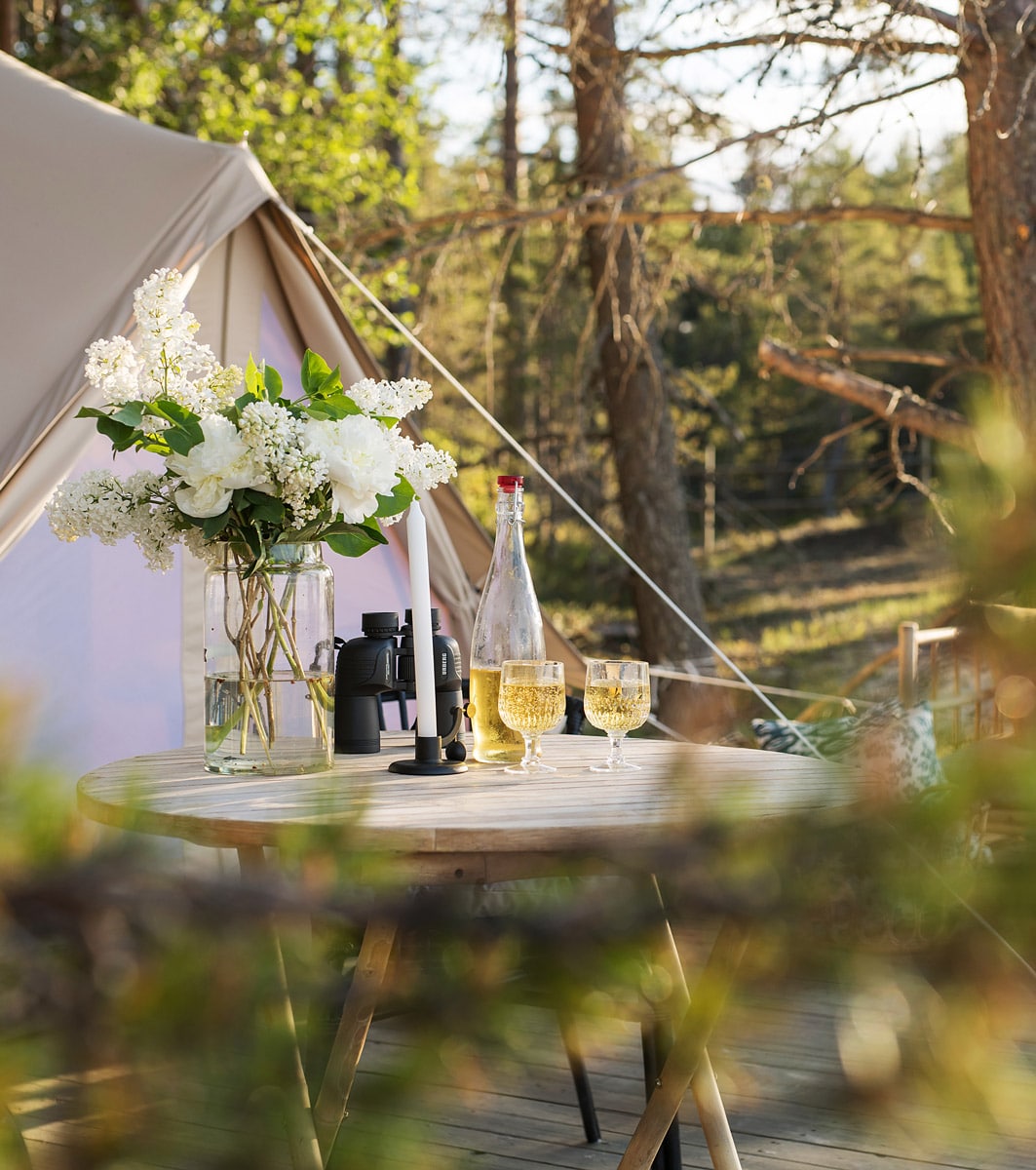 Where should we make camp?
It's easy to find your way to Gnista Glamping. You just follow Fäbodavägen out from Jakobstad and then turn off onto Lillsandsvägen.
When you have passed Sandmovägen you are almost there and the road to Gnista Glamping will soon appear on your right (keep an eye out for the sign). It's only about nine kilometres from the centre of Jakobstad to Gnista Glamping.
It can be difficult to drive all the way to the car park with a low car. The parking is a hilly forest area and driving here is at your own risk. If you want to be on the safe side, you can park the car a bit further away, but still within an easy walking distance.
See the map for more detailed information on parking options.
Relaxation is not an activity. It's a place. It's here!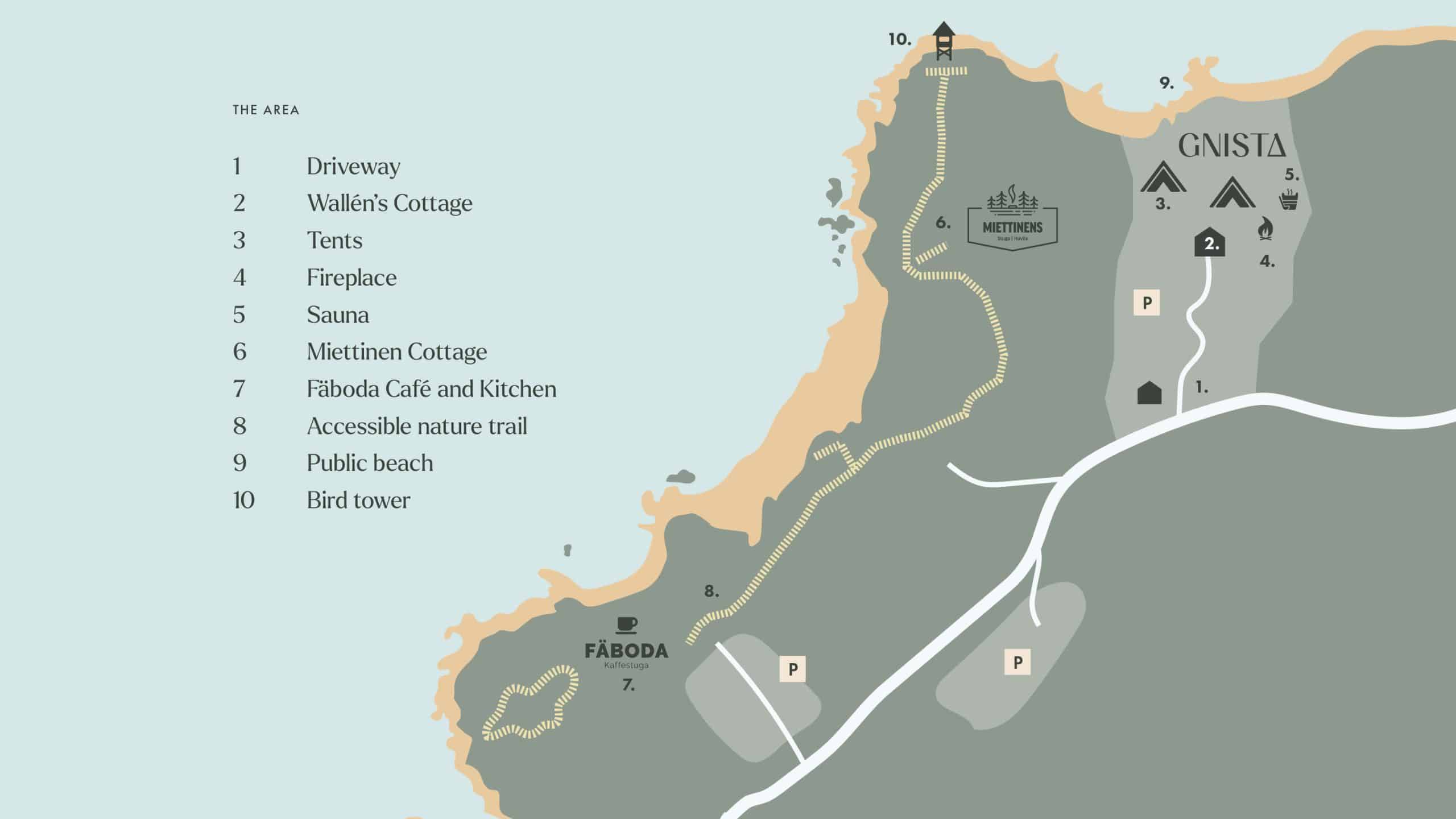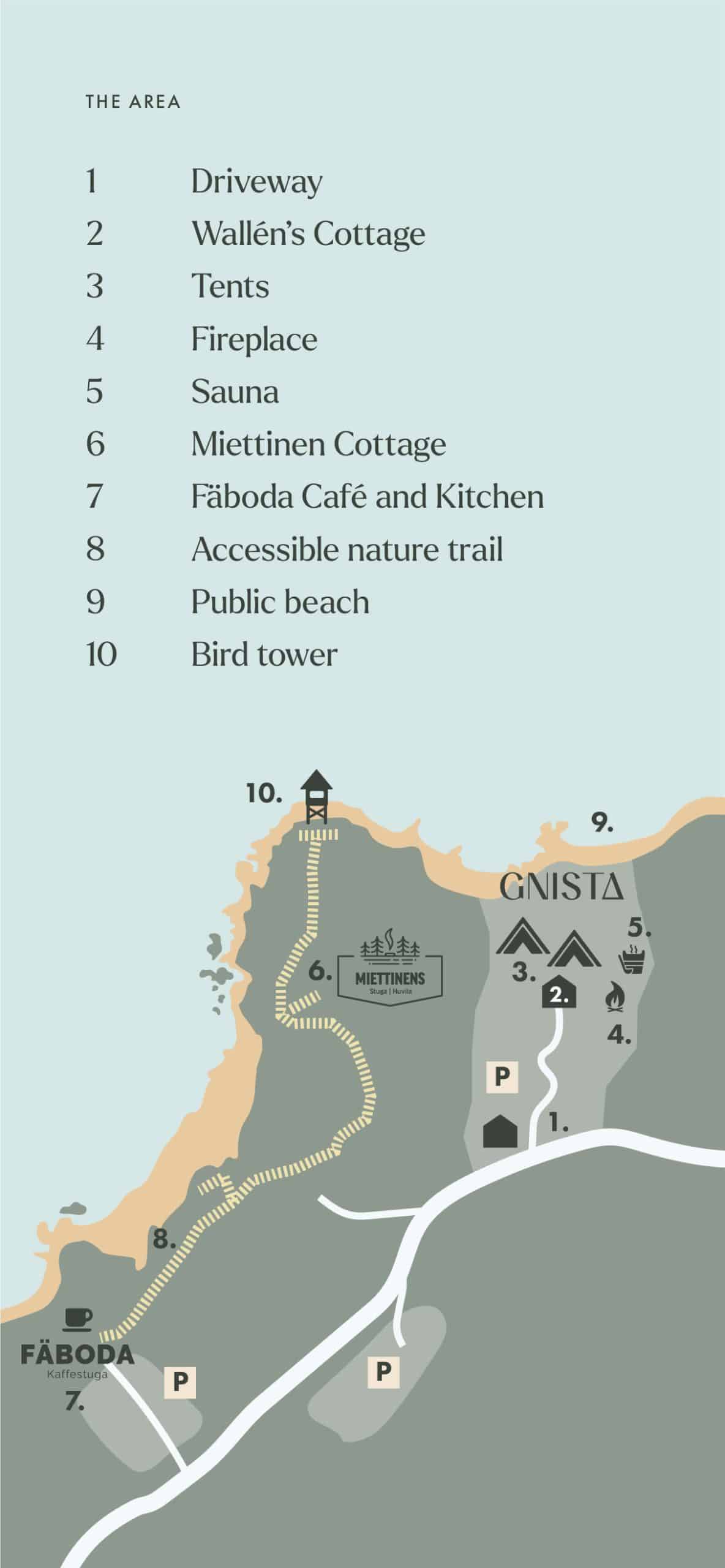 BREAKFAST BAG
Packed with locally produced flavours
Spice up your stay with a delicious taste of Jakobstad! The breakfast bag from the local bakery, Skorpan, contains food and drink that enhances your glamping and gives you the best possible start to your day.
Prepare the meal on the deck, or why not on a blanket on the beach, and enjoy your breakfast with the morning sun, the lapping water and your glamping companion.
The breakfast bags can be tailored according to diets and allergies.