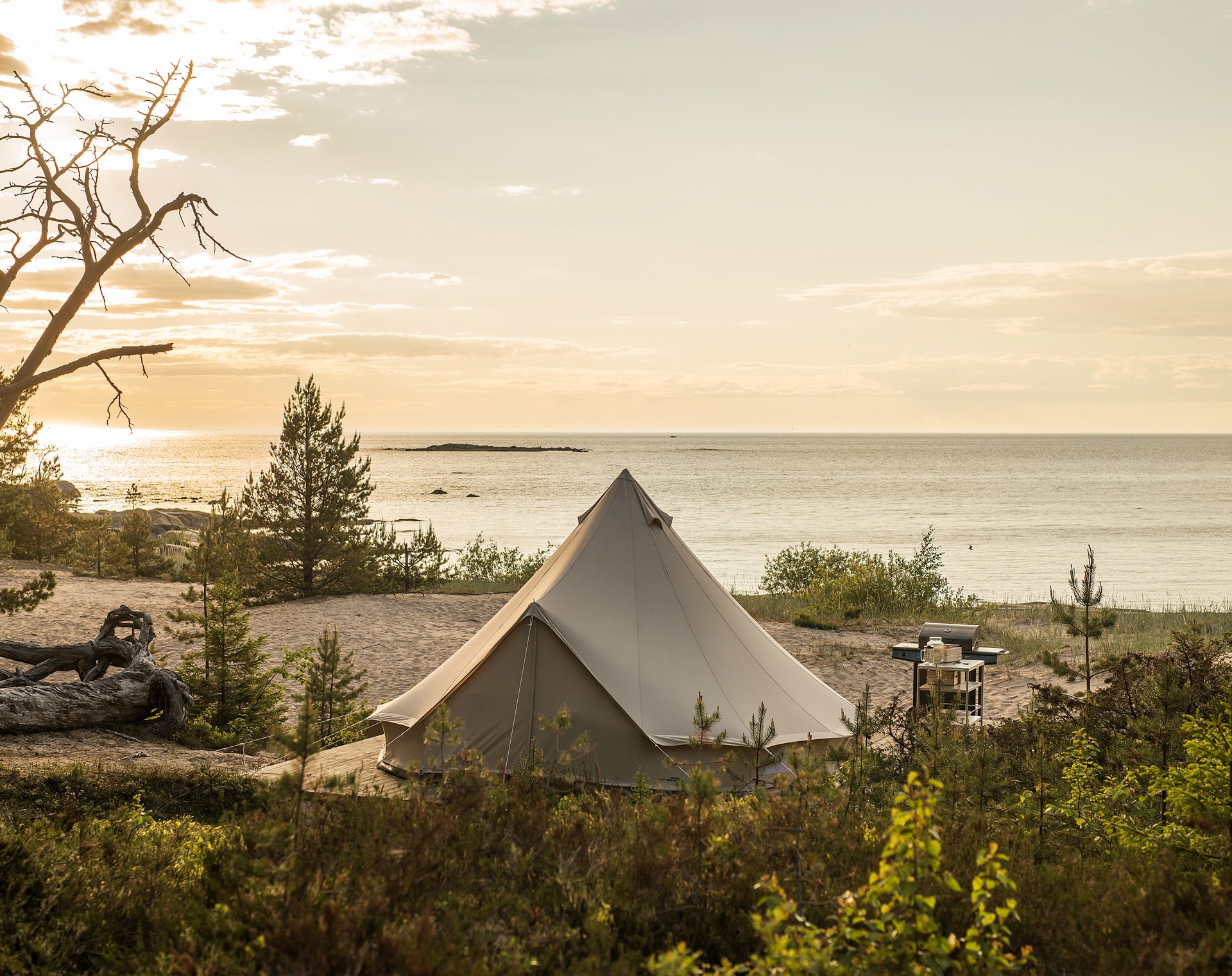 Unwind in Ostrobothnia, by Fäboda's golden sandy beaches and sun-kissed cliffs. At Gnista Glamping you have a unique opportunity to experience Fäboda as if it were your very own place on earth.
Experience Fäboda like never before
OUR PLACES
Relaxation, your way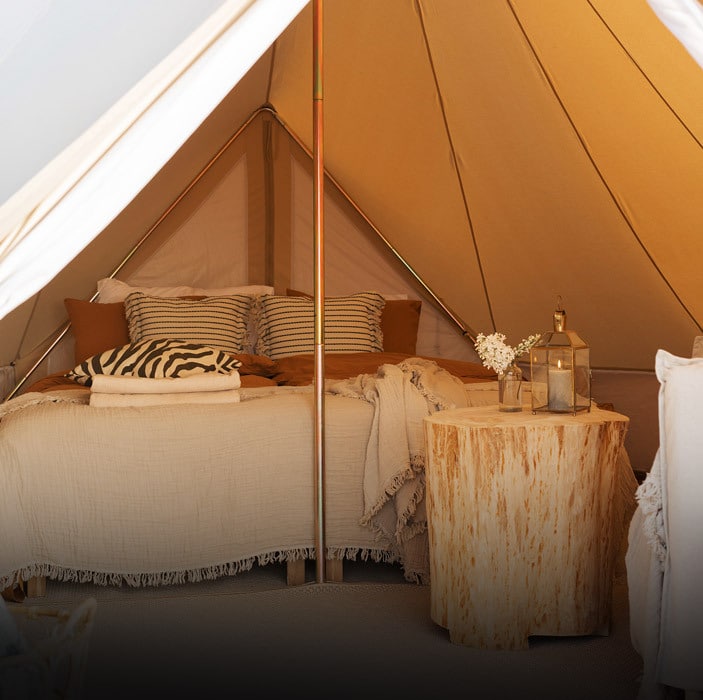 Gnista
Experience a place that gives you a peaceful new lease of life. Gnista Glamping consists of two large, furnished tents that can be booked when you want to enjoy peaceful days by the sea.
Welcome to
Gnista Glamping!
Sometimes you need to get away a little to find a way back to yourself. Gnista Glamping on the beaches of Fäboda is a wonderful refuge. Here, surrounded by the sunlit pine forest and the sound of the sea, you can feel the tranquillity embracing you like an old friend. Here you can relax, rediscover your rested state and your inner spark.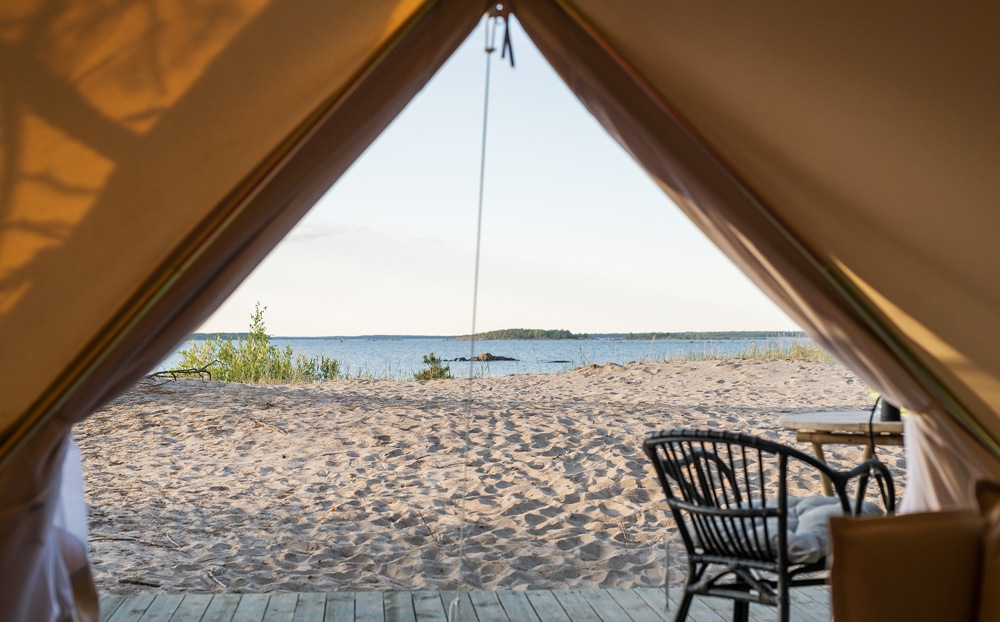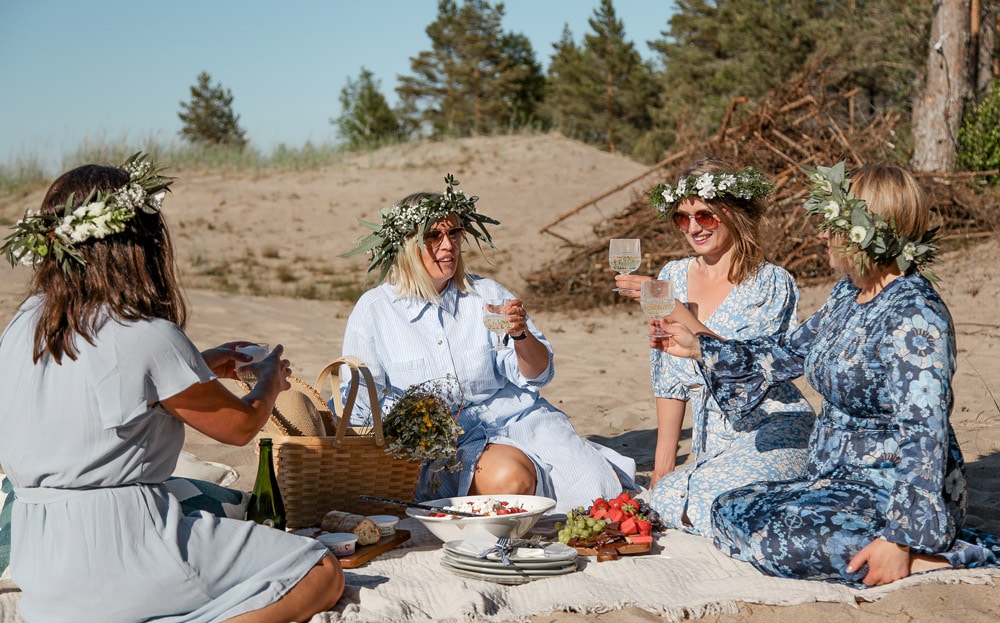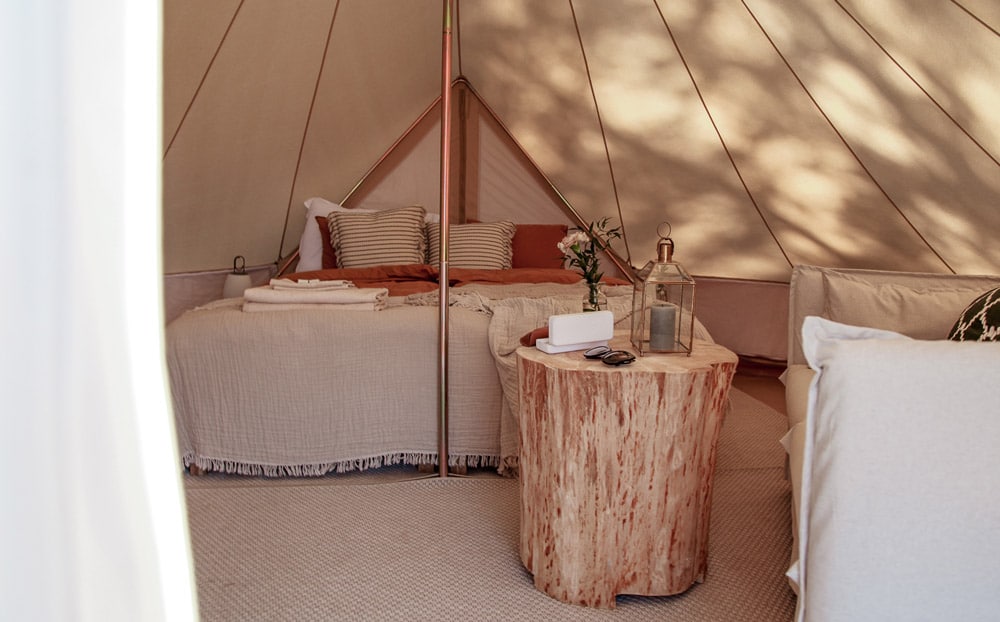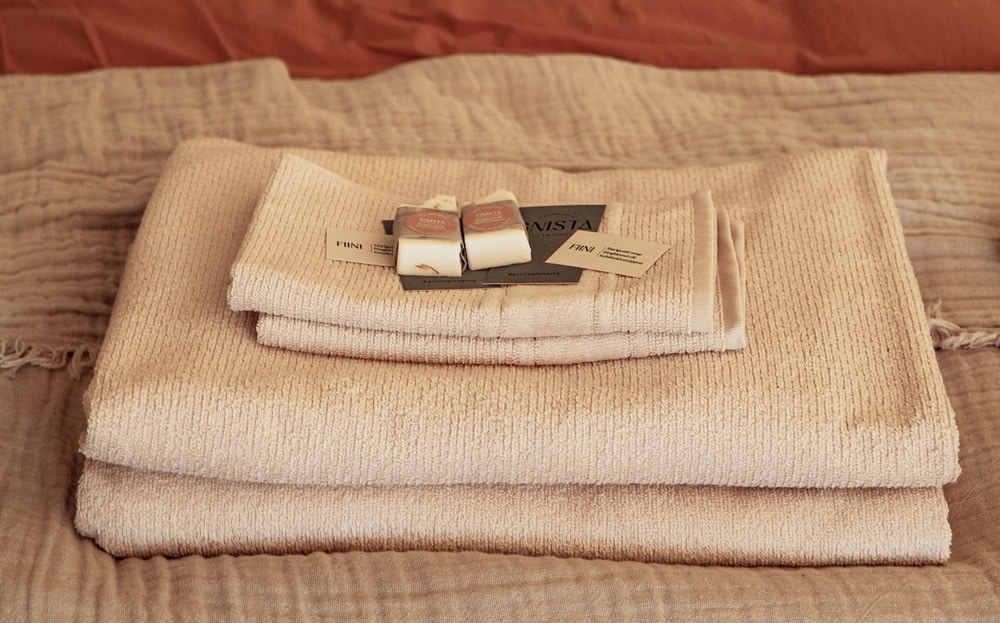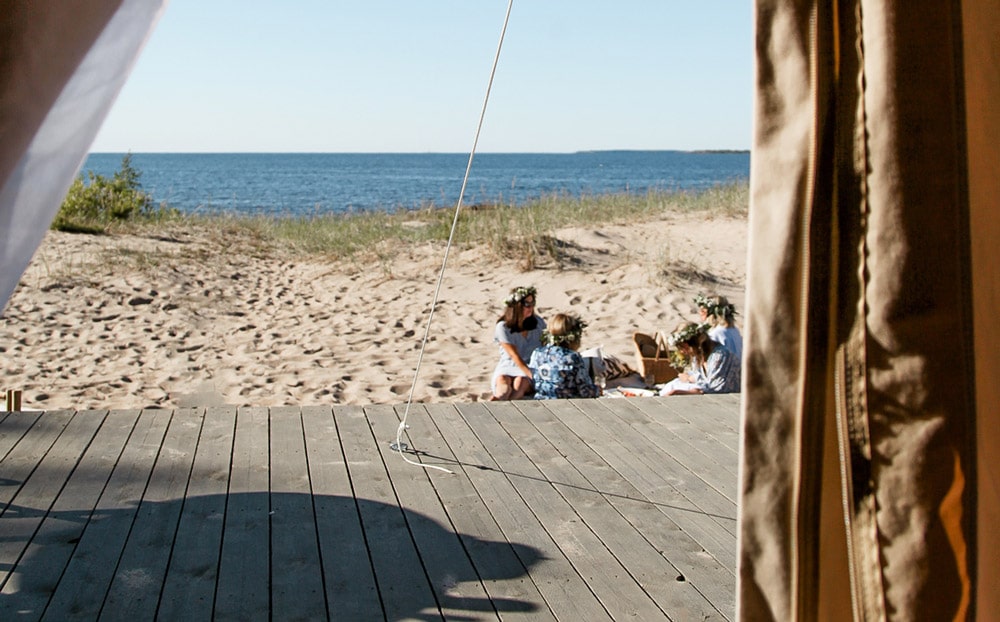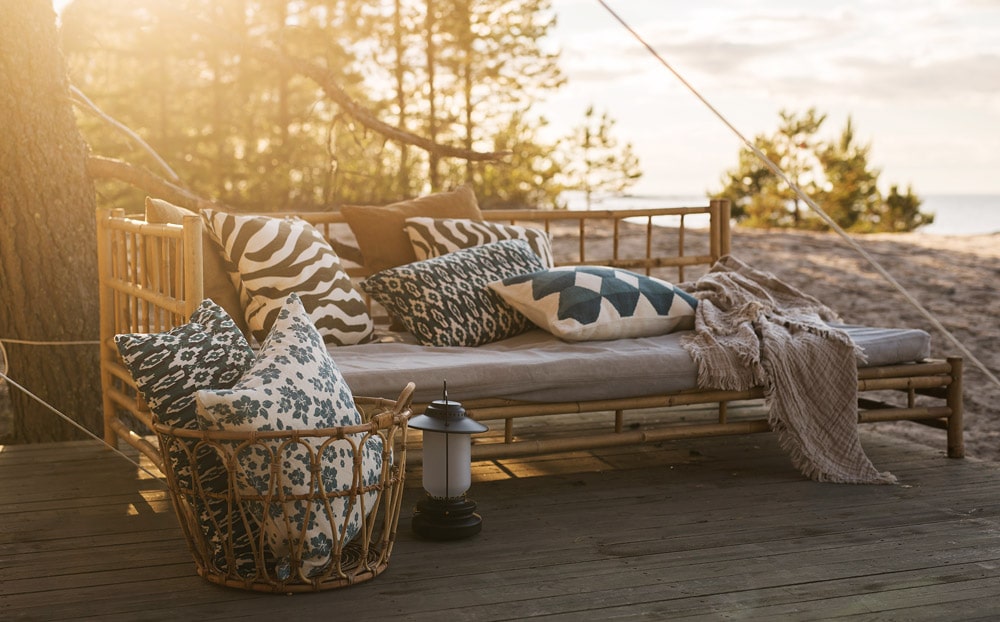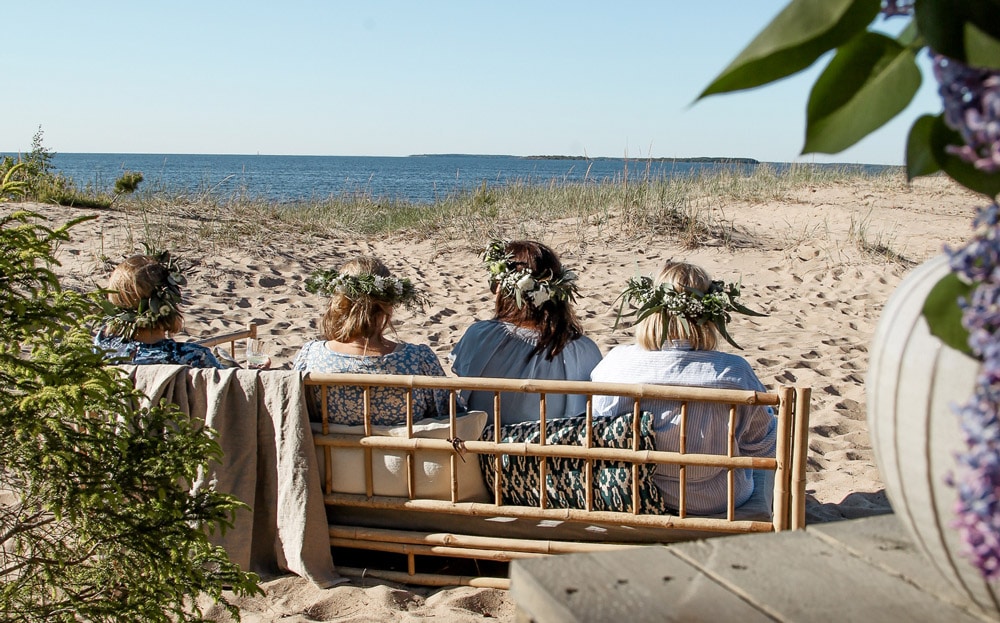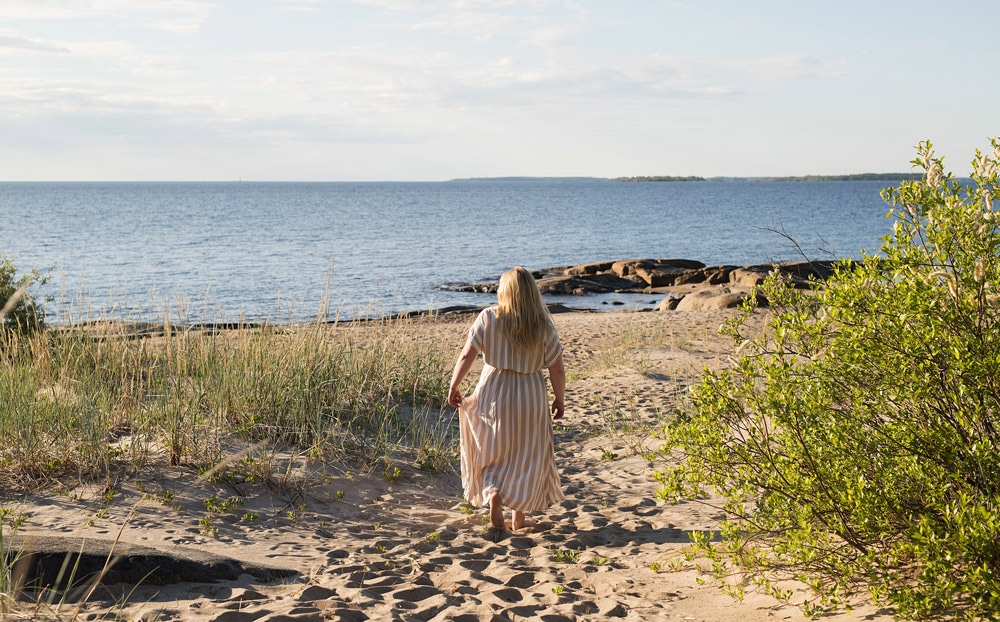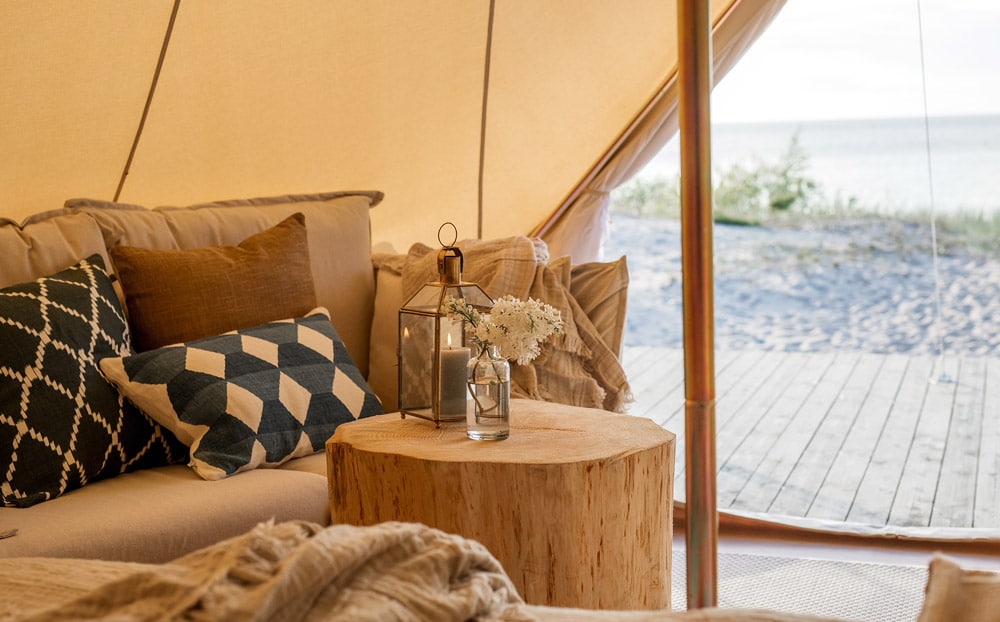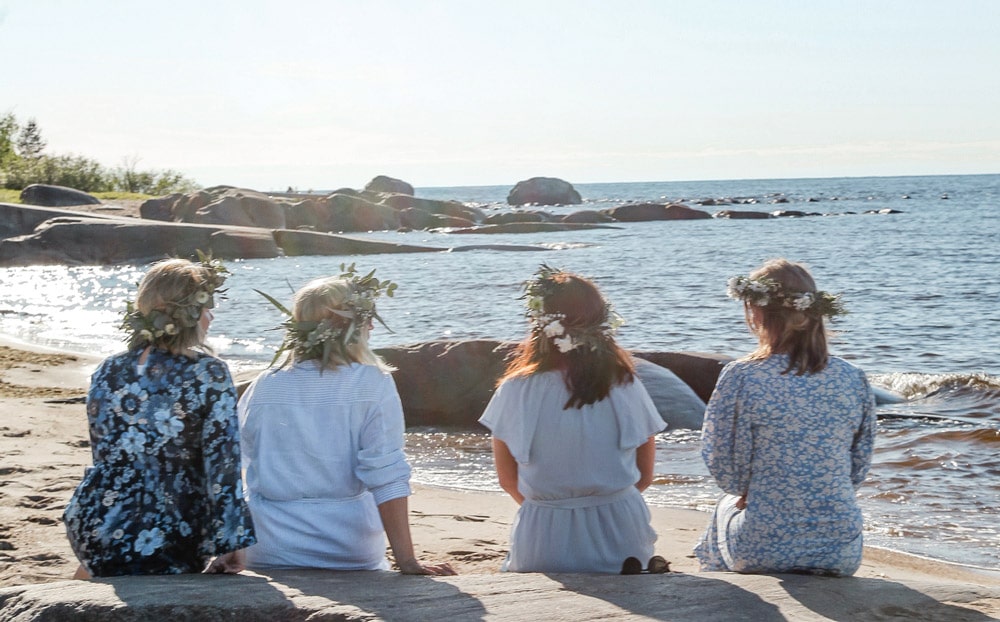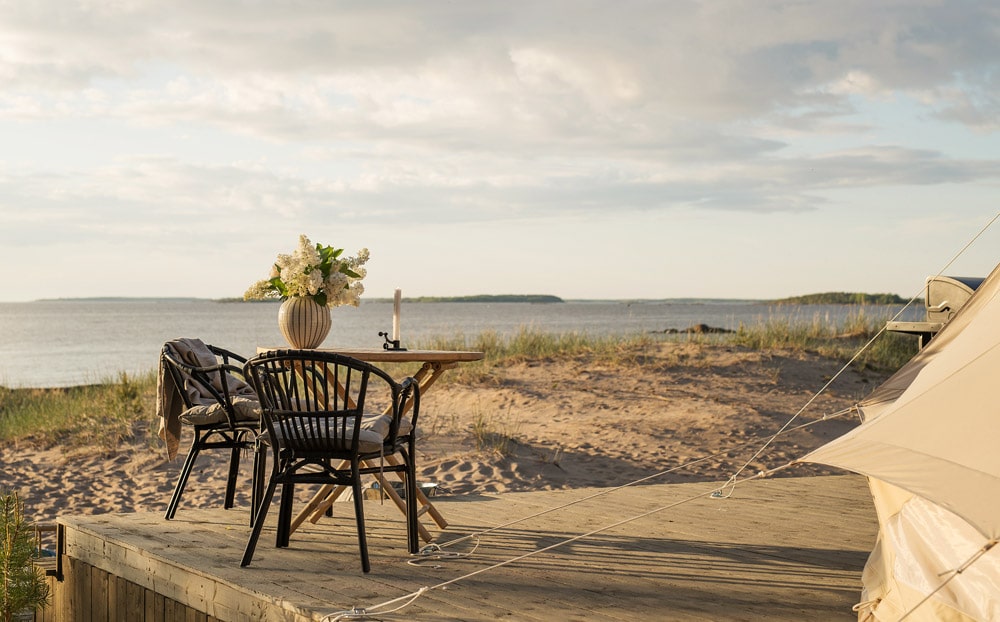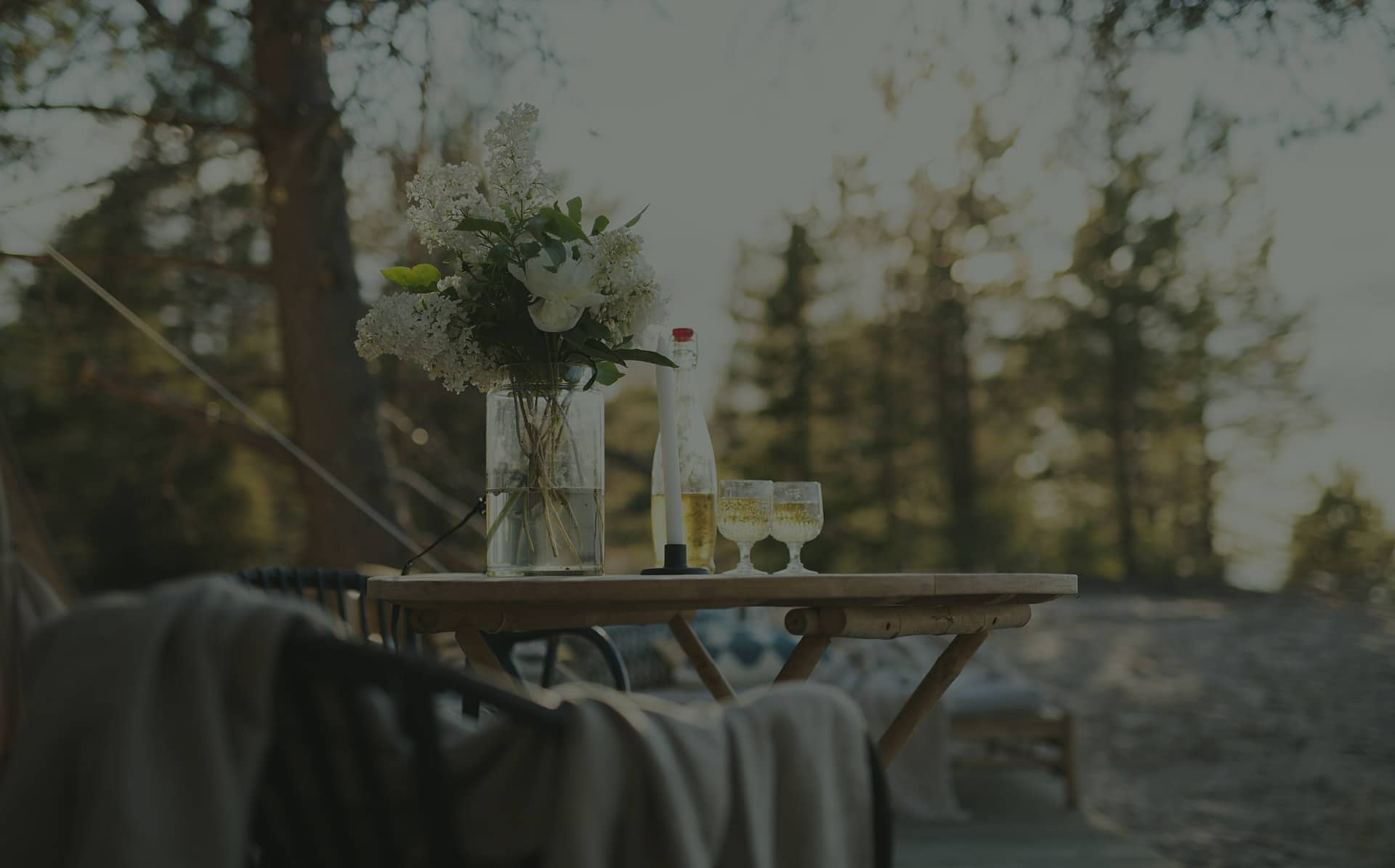 WHAT IS GLAMPING?
Glamping is a new word that combines the words camping and glamour. It is a popular form of recreation that combines the best of camping (the nature experiences, simplicity and sense of freedom) with convenience and sophistication.
GLAMPING IN HARMONY WITH NATURE
We believe that people feel best when they live in harmony with nature and we know that the environment is worthy of our care. Therefore, our glamping is based on environmental awareness and climate-smart choices.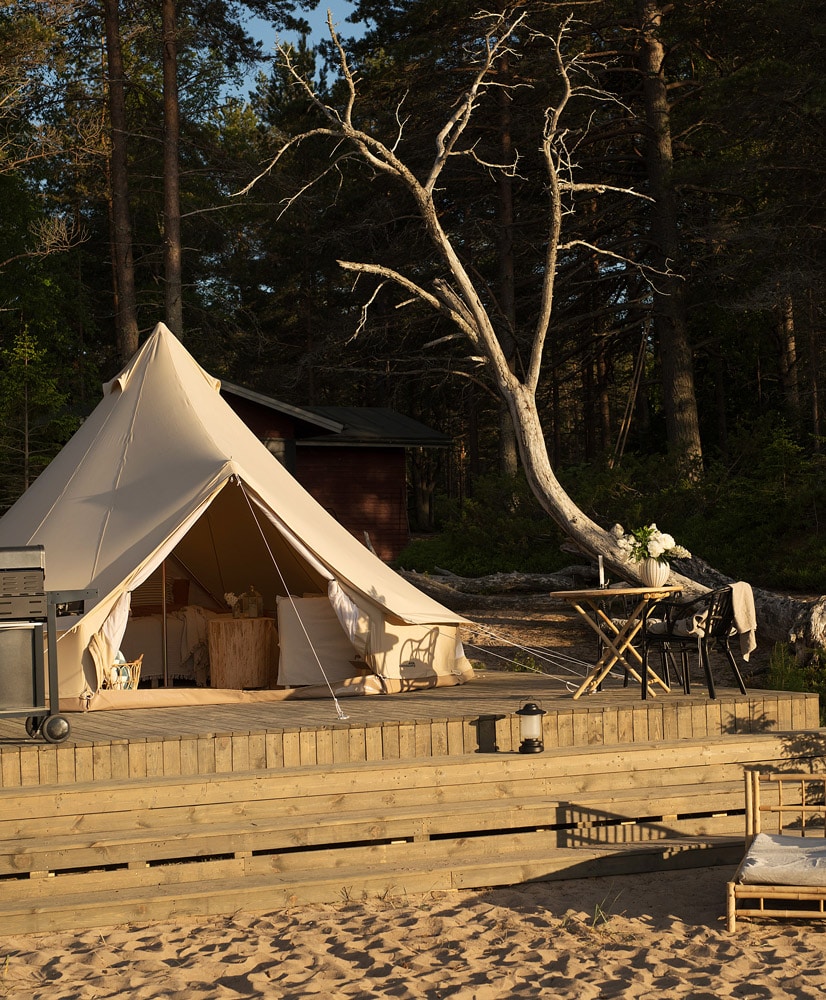 BOOKING
Glamping time!
STEP 1
If this is your first visit to Gnista Glamping, please read through the detailed information about our glamping site. This helps you find out where you can park, what you don't need to pack with you and lots of other things that can be good to know.
STEP 2
Fill in the booking form, choose the date of your stay and select optional extras. Reservations must be made no later than 72 hours before check-in.
Check-in is at 15.00 unless you agree otherwise with Linn Stenberg (044 491 44 77, linn.stenberg@ebbafastigheter.fi).
STEP 3
Pay easily with Visa, Mastercard or MobilePay, for example. A complete list of payment options can be found here.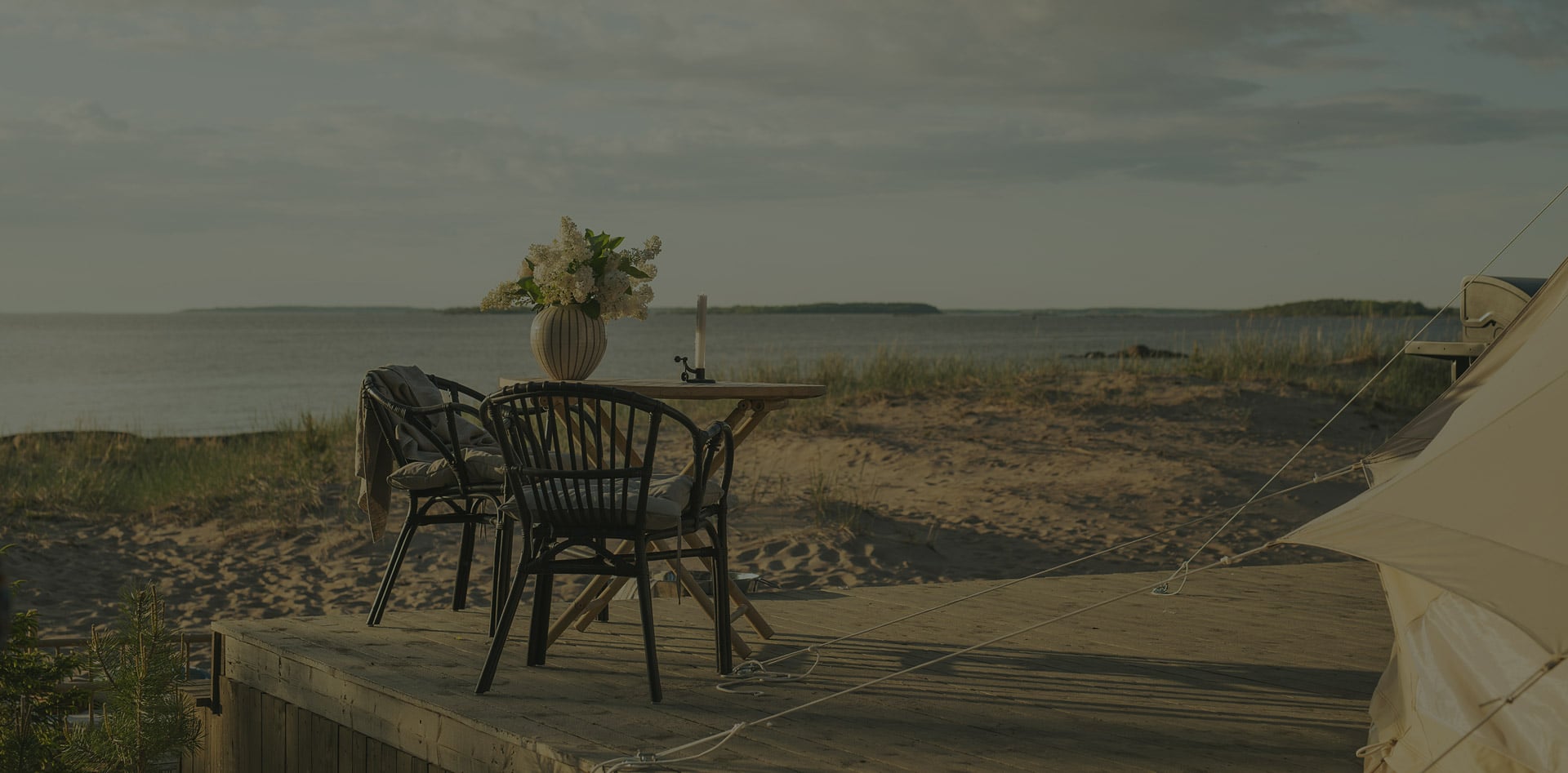 GNISTA GLAMPING
Your seaside property at Fäboda
Fäboda is a place unlike any other. Here the red evening glow and the sea breeze invite both rest and reflection.
Bury your feet in the sand of your very own beachfront, take a refreshing dip or enjoy the perfect beach picnic. Here you'll find time and opportunity to enjoy all the best things about just "being".
When the twilight of the Nordic summer night finally creeps in, you and your fellow glamper can rest in your tent, surrounded by a peace enhanced by nature's soothing world of sounds.
Warmth for body and soul
In 2020, the Finnish sauna tradition was added to the UNESCO list of humanity's intangible cultural heritage. If you ask us, it wasn't a day too soon. In fact, the decision reflects something we have known for a long time: taking a sauna is more than relaxation, it is an ancient and proven wellness practice, and a valuable tradition.
ABOUT THE SAUNA
The sauna has a changing room and a small shower room with an electric water heater.
Glamping guests can book the sauna for a maximum of two hours at a time. The sauna is free of charge for our glamping guests.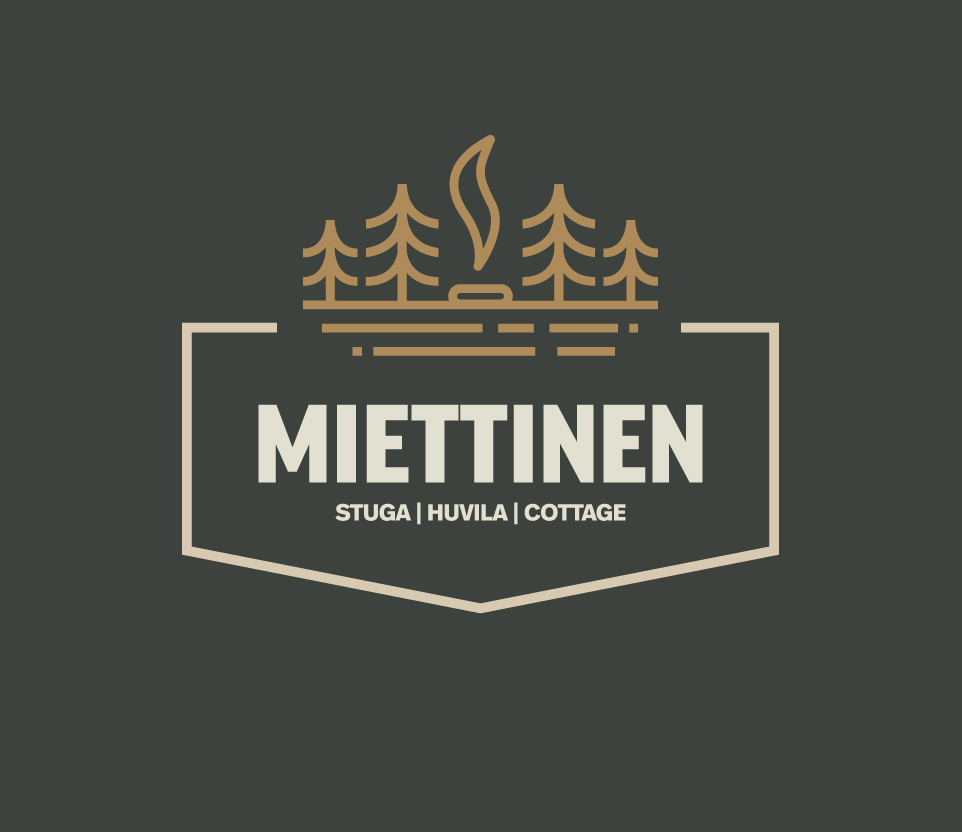 MIETTINEN'S COTTAGE
Rent the best view in Jakobstad!
At Miettinen's cottage you can enjoy the fresh sea breeze, relaxing beach life and magical sunsets.
Miettinen's is the perfect place for groups who want to hang out, barbecue, swim, play volleyball or just relax and enjoy the enchanting beauty of Fäboda.
The cottage is equipped with a fireplace and a long table that seats 16 people. The outdoor toilet and barbecue area are also nearby. However, there are no sleeping places in the cottage and it cannot be booked for an overnight stay.
Follow us on Instagram!
This error message is only visible to WordPress admins
Error: Access Token is not valid or has expired. Feed will not update.